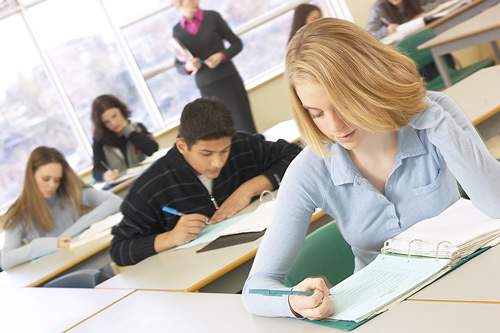 Folsom Cordova Unified School district middle and high schools prepare students for post-secondary life, in particular, college, careers, and responsible citizenship. Generally, all 6th-12th graders enroll in the core classes of English, social studies, science, mathematics, physical education, health, world languages, and electives. Students in good standing may select course options that dovetail with individual student goals and future plans.
Pathways, comprehensive programs of study that connect learning in the classroom with real-world application outside of school, have been implemented at the middle schools, comprehensive high schools and continuation high schools. Examples include agriculture sciences, careers in education, culinary design, engineering, global studies, health and fitness, information technology, media design, visual and performing arts, and ROTC.
New programs have been implemented in our secondary schools. Mitchell Middle School and Cordova High School host the International Baccalaureate Program (IB) Middle Years program (MYP) for the 6th-10th graders. Eleventh and twelfth graders at Cordova High School may pursue the prestigious IB Diploma Program (DP). Additional program options include: Global Program Studies (GPS) at Folsom High School, STEM Academy at Mills Middle School, Spanish acceleration at Sutter and Mills Middle Schools, and Air Force ROTC at Cordova High School.

The Board of Trustees approved new graduation requirements, effective with the class of 2017. These include geometry, a third year of science or a career technical education (CTE) course, and one course utilizing a differentiated instructional delivery model. Examples of differentiated delivery models include online, college, college articulated, CTE pathway, IB, Advanced Placement (AP), and internship courses. For additional information, link to the Graduation Requirements or Career Technical Education sites.
California adopted the Common Core State Standards (CCSS) in 2012. They are intended to provide an understanding of what students are expected to learn, so teachers and parents know what they need to do to help them. CCSS in the subject areas lay out a vision of what it means to be literate in the 21st Century. Official computer adapted assessments will commence spring, 2015. Eleventh graders will take the CSUS Early Assessment Program (EAP) exams, obtaining information regarding their readiness levels for college math and English courses. For information regarding CCSS curriculum, instructional practices and pilot assessments in the subject areas, link to Secondary Instruction.
This fall, students are using the new math adopted textbooks and supplementary materials. Folsom Cordova middle and high schools will be taking an integrated approach to mathematics for algebra 1, geometry, and algebra 2. Basically, concepts in all three disciplines will be present in all three courses. These courses are a-g approved (CSUS and UC) and prepare students for calculus and other advanced mathematics courses. The English Language Arts textbook adoption is slated for 2015/16. For additional information on mathematics instruction, link to Secondary Instruction.
In addition to challenging coursework, pathway program and co-curricular activities, the following are also components of secondary schools: counseling services, summer school remediation and enrichment programs, support for students with disabilities, interventions in math and ELA, advisories, History Day, Science Fair, Project Lead the Way, and Visual and Performing Arts competitions.
Secondary Advisory Committees exist for curriculum (CAC), students (SAB), career technical (CTE), and alternative education. Community members who wish to participate on district committees may contact this office for more information.
For information regarding Multi-Tiered System of Supports, please refer to the California Department of Education's link: Definition of MTSS